King of books retiring, but still blows his own horn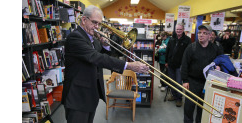 Sharman King is the goofy guy with frizzy hair who honks a tuba in television commercials for his chain of discount bookstores.
He still gets stopped on the street by people who recognize him from advertisements that haven't aired in more than a decade.
His televised tuba-playing was rudimentary, often featuring little more than a bleat, a honk, or a squeak. He was being playful. Mr. King is an accomplished musician, a fact little known by customers attracted to his stores by low prices and colourful promotions.
After 32 years of selling books, Mr. King announced last week that the four remaining Book Warehouse outlets will be closing their doors for good later this year. He turns 65 next month and his leases are expiring.
He intends to continue performing with the Vancouver Opera Orchestra, for which he has been playing the bass trombone since its founding in 1977.
Even if you haven't attended the opera recently, you might have heard him play. Mr. King appears on such diverse records as Procol Harum's Conquistador and Olivia Newton-John's Don't Cry For Me Argentina.
The trombonist also played in hundreds of jingles recorded in Vancouver in the 1970s to sell such products as milk, tissues, Kodak film and Pontiac cars.
"It's a career that couldn't happen now," he said. "My timing was good. I'd blundered into a good market."
Born in Trail in 1947, he grew up listening to his parents' collection of big band 78s. His father, Bob, had graduated as a chemical engineer from the University of British Columbia during the Depression, and could only find a job sweeping floors at a phosphate plant, a post he gained because he could also play trombone at dances. Young Sharman attended his first concert at age 6, when he saw bandleader Harry James and his Orchestra at the Trail Arena. He still has a program from the show.
Mr. King bought his first bass trombone for $300 as a high-school senior from a member of the visiting Royal Canadian Engineers band, based at CFB Chilliwack. He had saved the money from a job in the zinc-melting room at the Trail smelter.
While studying for a music degree at UBC, Mr. King performed with the crackerjack house band at the Cave supper club in Vancouver under the direction of the legendary Fraser MacPherson.
"We learned how to drink and play at the same time in that place," he said.
"Acts came to break in their new shows before they went to Las Vegas. We were typically the first people to see the music."
For a time, he toured with the drummer Buddy Rich, playing the Newport and Monterey jazz festivals.
While teaching at the University of Calgary, Mr. King joined the Edmonton Symphony and teamed up with Tommy Banks, the pianist, conductor and arranger who played host to an eponymous television variety show and who later was appointed to the Senate.
After Mr. King returned to the Lower Mainland, Mr. Banks called him up one day to announce, "Mortgage your home. We're going into the book business."
The Book Warehouse opened in 1980 at 632 West Broadway along an unfashionable stretch near Cambie Street. The business teetered near insolvency for a few years. One Sunday, Vancouver police entered to deliver a summons for violating the Holiday Shopping Act. The bookstore hired former mayor Jack Volrich and began a long legal battle. Now, laws preventing book buyers from making purchases on Sundays "seems archaic and strange."
The seventh day of sales helped push the store into profitability, as did Mr. King's zany sense of promotion.
In one unforgettable promo, he paid customers seven cents to cart away an unwanted book.
"People would agonize over which book they'd be paid to take away," he said.
In a business known for stuffiness, Mr. King "exudes a goofy joie de vivre approach to promotion" the B.C. Library Association noted. He even dressed as a penguin to promote sales of Penguin Books.
The tuba-honking marketer just happened to be a world-class trombonist who had played behind such vocalists as Frank Sinatra, Tony Bennett, Ray Charles, Sarah Vaughan, Tom Jones and Diana Krall.
Whatever happened to his first horn?
"I've bought and sold it a couple of times," he said. "I'd sell it to students. They'd quit and I'd get nostalgic and buy it back."
It is no longer for sale. He uses it to this day whenever the opera performs Mozart.